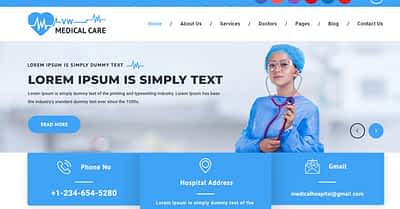 Author: WPKlik
Date: January 15, 2020
Category: Ecommerce, Maintenance, Performance, Plugin development, Reviews, SEO, Security, Theme development, Tips and tricks, Tutorials, Webdesign
Just like any ambulance or health clinic, your medical website has to be a safe place for your patients. They want to feel welcome, comfortable and reassured. They need information and somebody who will patiently share them.
Creating a website that's going to meet all your patient's needs is no easy feat – so it's always good to have some help along the way. Instead of trying to build a website from the ground up, it is much better to build it using WordPress, the world's most popular content management system.
This allows you to create your
---
World of WordPress is hosted by:
While others try to add more components to their hosting to make it go faster, we decided to build our hosting cloud fast from the ground up. We did so by stripping out everything we knew was deadweight.
---