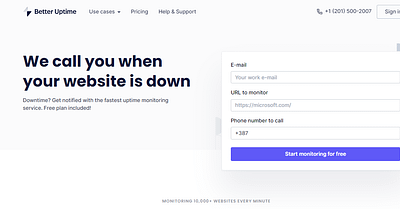 Author: WebFactory Blog
Date: September 12, 2020
Category: Ecommerce, Maintenance, Performance, Plugin development, Reviews, SEO, Security, Theme development, Tips and tricks, Tutorials, Webdesign, Webhosting
It is crucial for all websites to be available to users at all times. But sometimes, websites and URLs go down due to technical difficulties such as hardware problems and network issues. Even though most (reputable) web hosts "promise" not to have these issues, they can still occur from time to time.
#Downtimes are usually unintentionally caused by your #hosting provider, which is why it is best to set up notifications in case your site goes down.
Another potential reason could be DDOS attacks that hackers use to take down websites.
Big businesses/organizations can afford to have teams that
---
World of WordPress is hosted by:
While others try to add more components to their hosting to make it go faster, we decided to build our hosting cloud fast from the ground up. We did so by stripping out everything we knew was deadweight.
---