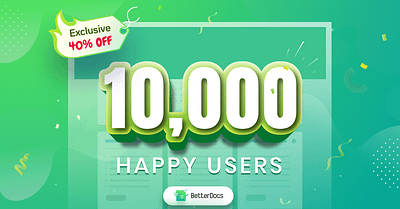 We are thrilled to share exciting news with you today. In less than one year, BetterDocs knowledge base plugin has reached an incredible milestone of more than 10,000 happy users! 🎉
It is very rare for any WordPress plugin to achieve this goal in such a short period of time. Even though there are many similar documentation plugins, BetterDocs has become the most popular choice very quickly because of its advanced features and flexibility.
From renowned organizations like Stanford University to small startup businesses, BetterDocs is powering up knowledge base for top WordPress websites from 100+ countries in
---
World of WordPress is hosted by:
With Rocket, your websites will be blazing fast, always protected, and supported 24/7 by our experts with over 17 years of experience.
---