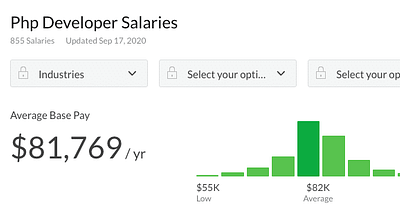 Desarrollo de PHP: algunos lo consideran un lenguaje popular con un futuro prometedor, otros una tecnología obsoleta que no vale la pena aprender. ¿Pero qué dicen los números, especialmente cuando miras el salario de un desarrollador de PHP?
Pruebe una demostración gratuita
Mientras que hay muchos lenguajes más nuevos, llamativos y emocionantes por ahí, PHP sigue siendo un elemento básico fiable de desarrollo web y una habilidad que muchos empleadores todavía están buscando.
¿Estás interesado en convertirte en un desarrollador de PHP? Ya hemos cubierto el salario medio de un desarrollador web, ahora vamos a sumergirnos en PHP
---
World of WordPress is hosted by:
While others try to add more components to their hosting to make it go faster, we decided to build our hosting cloud fast from the ground up. We did so by stripping out everything we knew was deadweight.
---