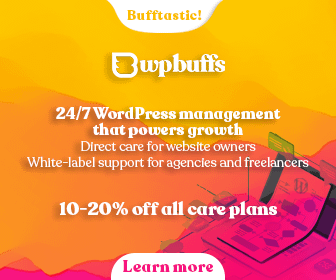 This deal is offered by
WP Buffs
Recommended by World of WordPress
We handle unlimited edits, performance enhancements, daily health maintenance and regular security troubleshooting so you don't have to. This allows you to make bold decisions when it comes to your website without hesitating due to technical restraints.
Everything we do is driven by you, our customers and white-label partners. Our aim is to help as many website owners and digital agencies with WordPress as possible. The goal is to get so many people comfortable with WordPress that it ends up powering 51% of the internet. Booyah!
Vendor description:
We want to be the very best technical support partner for any individual, business or organization with a WordPress website. You know how hard it is to find a dependable WordPress developer and keep your website happy and healthy. Well, problem solved.
---
---