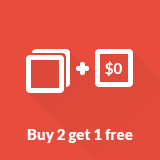 This deal is offered by
PixelEmu

This is a very profitable offer for those who plan to buy more than one theme at our store.
With a little planning in advance, you can save a lot.
Don't let this opportunity slip by!
Vendor description:
Buy 2 themes at once (on the same day, date) and get the 3rd theme for FREE.
How? Add 3 themes to the cart, then the price of the cheapest one will change to $0.
---
---