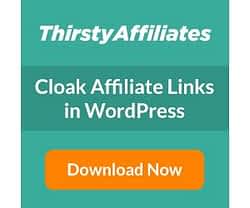 This deal is offered by
ThirstyAffiliates
Recommended by World of WordPress
ThirstyAffiliates is more than just a run of the mill affiliate link cloaker – it's a tool designed for bloggers to make money.
That's why so many blog owners are using ThirstyAffiliates to manage their affiliate links.
10x Your Affiliate Marketing Efforts – FAST!
Convert more of your blog visitors into affiliate income without annoying your audience.
Vendor description:
ThirstyAffiliates is aimed at bloggers using WordPress, but really all affiliate marketers of any kind that use WordPress as their CMS are suited to use ThirstyAffiliates to aid in their affiliate marketing monetization.
15% OFF
Coupon code: WORLDOFWP15
---
Share this deal!
---
---