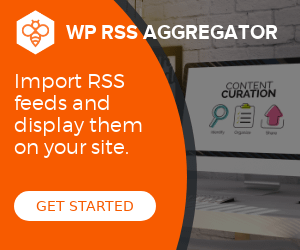 This deal is offered by
WP RSS Aggregator
Recommended by World of WordPress
Automatically import RSS feeds to display them on your WordPress site with WP RSS Aggregator
Import RSS feeds for articles, Youtube videos, podcasts, and more
Import into WordPress posts or any other custom post type with Feed to Post.
The complete solution for a wide variety of sites!
Vendor description:
Jean Galea, the founder of the highly-regarded WordPress reviews site WP Mayor, initially developed WP RSS Aggregator as a way to important community news to his site. He shared his plugin for free on the WordPress.org plugin repository, where it was a big hit. A flood of user requests soon followed and Jean realised that he would have to hire more coders and support staff. He introduced a "freemium" model, whereby some users pay for some features by buying paid add-ons, providing the resources necessary to improve the entire product for everyone. Our team, led by CEO and podcaster Mark Zahra, now numbers 5 people, and WP RSS Aggregator is, by far, the most popular, most featured and fastest-growing RSS aggregation plugin.
---
---