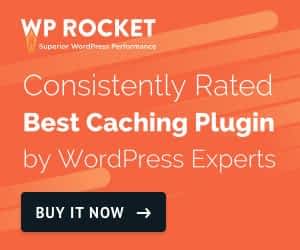 This deal is offered by
WP Rocket

Recognized as the most powerful caching plugin by WordPress experts.
Minimal Configuration, Immediate Results
Don't waste your time struggling with complex plugin settings. WP Rocket launches upon activation.
Get a faster website in a few clicks.
No coding required.
Vendor description:
From the world of websites creation, Jonathan Buttigieg and Jean-Baptiste Marchand-Arvier have known the issues of loading times for a while. Fond of performance, they were frustrated with every existing plugin they installed. "We thought that user experience was not optimal. There are a lot of features and the set up takes too much time even for an expert." In 2013, they developed their own plugin WP Rocket: available for all and without the need to have technical skills in Web Performance to be able to install it and to get a fast website.
---
---