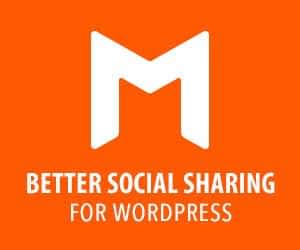 This deal is offered by
Elegant Themes

Take Social Sharing to the Next Level with Monarch. A Social Media Plugin with Style
Over 20 Social Networks to Choose From
Social Media is the lifeblood that keeps the internet glowing. Social Sharing lets you harness that activity and use it as a positive force for your business. Choose from more than 20 social sharing networks to display on your website to create a custom collection of sharing options for your visitors.
Add Sharing Buttons in 5 Different Locations
Different websites, pages, and posts have different social sharing needs. That's why we've included a large selection of locations you can choose to place sharing buttons.
6 Automatic Pop-Up & Fly-In Triggers
Pop-ups and Fly-ins can be triggered by unique user interactions. This allows you to capture your visitors' attention when they are most engaged or when they are in danger of leaving your page.
Clean, Customizable Design
We know that implementing plugin elements into your site can appear tacky and out of place, so we packed Monarch full of design options for seamless design integration.
Vendor description:
We hold elegance at our core and rally behind a shared passion for simple, beautiful design. What was once a one-man operation in Nick's college apartment has grown into a diverse and distributed team of WordPress enthusiasts from all around the world. Elegant Themes isn't just a company, it's a community, and we cling to the community-centric values that have guided us over the past 11 years. We love WordPress, we love Open Source, and most of all we love building great things for our amazing customers.
---
---