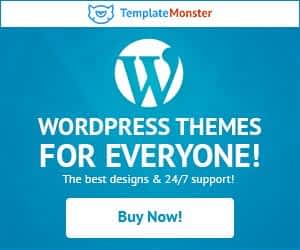 This deal is offered by
TemplateMonster

WordPress Themes are ready-made layouts created for WordPress — one of the most popular content management systems used for blogging, news websites and e-commerce projects. These templates are custom solutions for building an online resource from scratch or easily revamping an existing one.
Powered by Cherry Framework, these WordPress templates designs offer a variety of shortcodes and plugins, WordPress Bootstrap themes with Bootstrap options as well as the possibility to update the current appearance with flexible Parent/Child themes.
In order to emphasize the uniqueness of your website, we enabled the use of different types of posts for various blocks of information you would like to showcase. More than a hundred features are available within the framework: customizing logos, navigation and typography, as well as making changes to the slider, blog pages, portfolios, page footers etc. You can also use special templates for such purposes such as WordPress portfolio themes.
Keeping pace with the modern trends on the web, our templates are built cross-browser compatible to make sure your website looks flawless in all modern browsers. Moreover, almost all our products sport 100% responsive designs making it possible to visit and enjoy your online resource from any modern mobile device of choice.
Each of our premium themes for WordPress is Search Engine Friendly. Thus, you will always be able to optimize your website so that more clients can learn about the goods and services your company provides on the Internet!
Purchasing our products ensures you receive full access to 24/7 free lifetime support. Professional assistance is provided by our technical specialists day and night, whenever it is needed. They work to guarantee your questions about the WordPress website designs are answered properly!
Buy themes for WordPress if you are willing to build a website that will instantly catch your viewers' attention and prove that your business is beyond any competition!
Vendor description:
You must be wondering how we differ from other digital products marketplaces? The TemplateMonster marketplace began with a simple idea: everyone should be able to get professional digital products with ease. Thus, to make this easy for you, we make it manageable for anyone, a newbie or web savvy individual, to build and customize a new website working with a template, or to build anything else using only high-quality design essentials. This way, we've managed to build a relationship far from being "just another company" on the market, to a digital marketplace that people trust and love. People love us because we've gathered in our inventory high-quality digital products and we're constantly adding more. This encourages every one of our clients to graduate from just 'liking' to 'loving' our products.
---
---