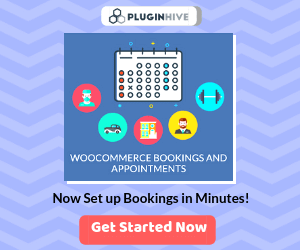 This deal is offered by
PluginHive

Woocommerce Bookings and appointments
Woocommerce Bookings and appointments is a powerful plugin that allows you to convert your time, products or services into a bookable resource.
This plugin allows service providers and businesses of all types to easily integrate and empower their woocommerce site with a booking solution.
With this plugin you can sell your products and take bookings for other products/services on the same website. For Eg: A Spa website can take bookings for various spa services and also sell beauty products on the same woocommerce website.
What more? the admin configurations are extremely simple and easy to follow, unlike other complex plugins.
Vendor description:
PluginHive is specialized in providing the Most Secure, Stable, Feature-rich and intuitive WooCommerce plugins. We take pride in ourselves for having helped businesses across 55+ countries to propel to the next level. We are one of the top developers in the area of WooCommerce shipping plugins and have over 50,000 active customers. Our products have been evolving with real-time requirements from customers. And, we believe that great products happen by continually listening to the needs of our customers. PluginHive strives to maintain its reputation by providing the best quality products, prompt support at every step, 30-day money back guarantee and hassle-free updates.
---
---