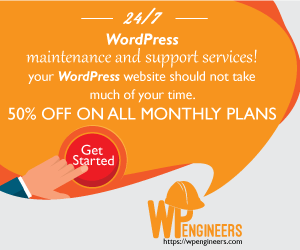 This deal is offered by
WpEngineers

WordPress website support and maintenance services
We provide WordPress website support and maintenance service including security, Performance, Regular updates and Website Edits.
Maintaining and optimizing your site has never been simpler because at WpEngineers we provide a complete range of services considered essential to make a website run like the wind.
Vendor description:
W e are a team of software engineers and devOps, who have worked in multi national companies and have years of experience in managing servers with high scalibility. We have worked on WordPress based websites and are aware of the intricacies involved in the maintenance and administration of such sites.
---
---