Premium WordPress Themes For Professional And Reliable Coupon Websites
Be it frugal or generous, everyone wants to save money. Most consumers look for deals and discounts before buying their desired items. Getting to save money on groceries, clothing items and more always put a smile on people's faces. Creating a coupon and discount deal website is a great idea if you want more people to visit your website and benefit from it. However, it is not as easy as it seems.
If you want consumers to choose your website over the others you need to come up with ways to make it more exciting and different from the others. For that, you need to choose a creative, aesthetic, and reliable WordPress theme. Once you have chosen the theme, you can create an exciting website to provide your customers with gift vouchers, discount deals, and coupons.
In this article, we are going to share with you the best WordPress premium themes for coupon websites. So without further ado, let's get into the details.
Best selling WordPress premium themes for discount coupon websites
Following are the best WordPress premium themes for discount coupon websites:
Divi:
If you are looking for an exceptionally customizable theme for your coupon website, Divi is the answer. It is an incredibly flexible theme with a Divi builder. This builder is one of the most powerful builders offered by WordPress.
Divi allows you to design your deals and coupons website however you like them. If you have a vision in your mind you want to achieve through your coupon website, Divi can be of great help. This theme is based on the philosophy of "You get what you see". Through this theme, you can customize your website from the front end.
Doo: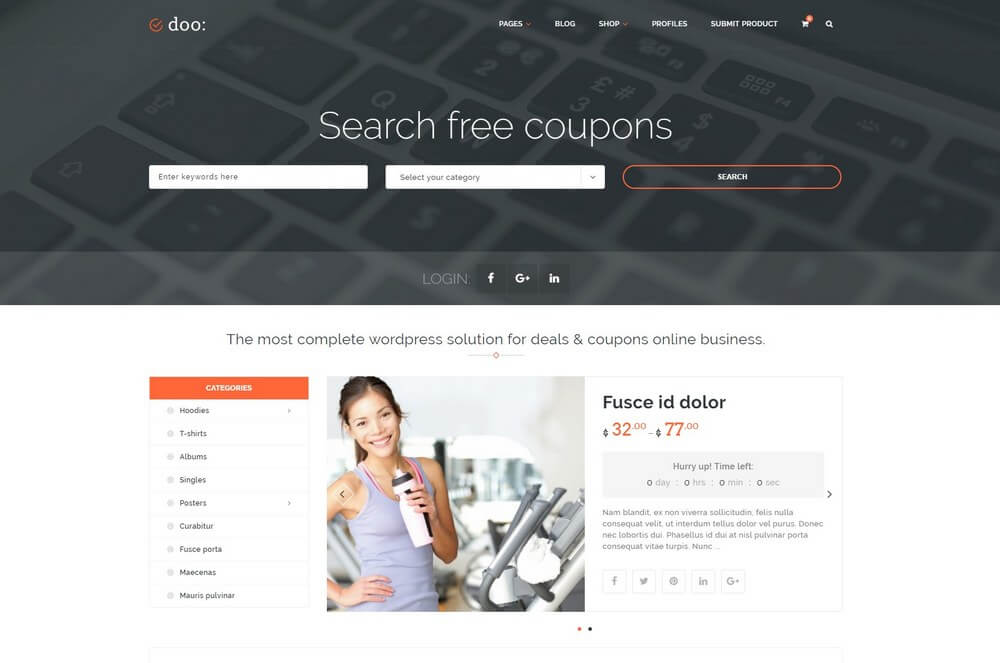 Another useful WordPress theme that lets you create amazing affiliate marketing websites is Doo. It includes a variety of features that let you create high-quality and professional deals and coupon websites.
Whether you want to keep it minimal or go extra with the design elements, you have a variety of homepage layouts to choose from. You can choose simple and minimal designs to add products into a variety of categories. Keeping it simple also means the chances of briefly being unavailable for scheduled maintenance error reduces a great deal. You can also enable users to look for specific deals by adding a search function to the website.
Daily Deal: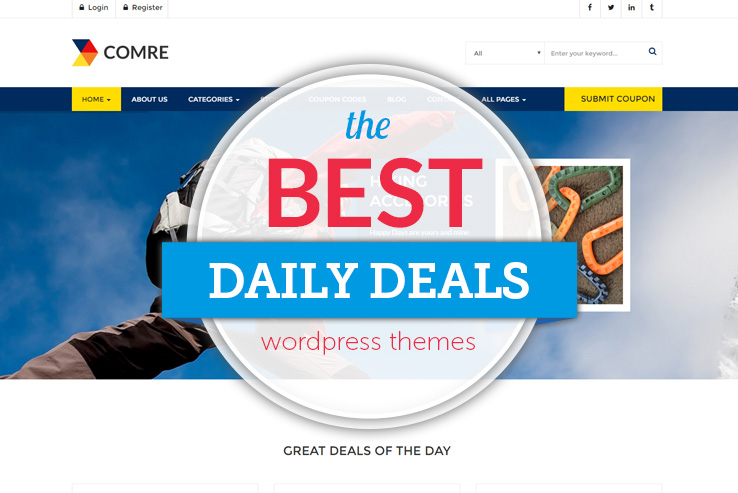 Another great theme to create a fully-featured coupon and deals website is Daily Deal. This theme not only allows you to add your own deals but also lets other users register and submit their deals. Before these deals appear on the websites, they are reviewed and approved by the website's admin.
New deals can be easily added by using the custom deals post type. You can customize designs by dragging and dropping elements of your choice to a completely widgetized homepage. This theme is foundation framework-based. This means it is compatible with both desktop and mobile devices and looks amazing on both. You can use this theme to offer your users a variety of deals including coupon deals, affiliates deals, and digital deals.
This theme also allows multiple modes of payments made through multiple gateways including PayPal, WorldPay, Google Checkout, and a variety of offline payment methods.
Clipper:
If you are looking for an incredible theme that suits affiliate marketers, Clipper is the answer to your question. It has a plethora of features that make website monetization exceptionally easy. The built-in affiliate link tracking and cloaking make it an ideal theme for affiliate marketing. This means you don't have to install a stand-alone plugin to keep track of page views or clicks or the CTR of the links added.
This theme also allows other users to submit their deals and coupons with a simple registration process. You don't have to do anything to make that happen. You can make extra money by charging them for listing their coupons.
If there is a problem with the interface, it can be easily reported by the users. You can easily view your most popular coupon posts with the help of built-in tracking. When it comes to website design, Clipper offers you a variety of color schemes to choose from. You also get several custom email templates.
It comes with an advanced importer which enables you to upload CSV sheets. If you are looking for a powerful theme for your coupon website, Clipper is one of the best options for you.
Kupon:
If you are looking for a versatile WordPress theme for a website that promotes coupons or discount deals, give Kupon a try. You can set this theme up in a variety of ways. You can create your own deals and upload them on your website or open it for third parties to submit their discount deals.
Allow third party users registration:
You can earn a good amount of money by allowing visitors to sign up for your website to submit their listings. You can charge them for registering on your website. Whether you want to keep a flat rate for each submission or allow vendors to bargain the rate, flexible monetization options help you with that.
Give your website a professional appearance:
Kupon is also a great option if you are looking to create a professional-looking website. It comes with a variety of minimal and modern templates you can add to your website for a professional appearance. If you want more visitors to avail of the deals and discounts posted on your website, you should make it look more professional and reliable. Your website visitors will only avail of deals and offers if they find your website trustworthy.
Wrapping up!
Creating a website to post discount deals and coupons is an ideal way to make some extra cash. That's because everyone loves availing themselves of discounts and saving money on their purchases. But to make that happen, you need to create a professional-looking website with features that make it stand out. It should have all those design elements that capture users' attention. You can also open your website for third-party users to register their deals.
With the help of the above-mentioned WordPress themes, you can create ideal and reliable coupon websites that convert more website visitors into regular users of your website.