Outsourcing is full of mediocre work, frustration and broken promises, but it doesn't have to be that way. A strong customer focussed approach and 15+ years of web development experience do make a difference.
When you work with me, you can expect high quality results, clear and ethical communication, attention to detail, an eye for aesthetics, and a personalised, professional and friendly service.
What clients are saying about me, right here on Upwork:
"Ivan's communication and attention to detail are what keep me coming back! In my opinion, he is the top 1% of the Upwork community."

"Among the great talent I've discovered on Upwork, Ivan has officially set the bar with his stellar communication, incredible ability to manage time and his deep and thorough understanding of WordPress."

"Ivan was very professional and knowledgeable. He communicated very well and executed the task with great efficiency in spite of the hurdles I put in his way. Great contractor to work with."

"Absolutely terrific to work with."

"Perfect service, perfect work. Great communication, everything completed in a timely manner and well documented."

"Great skill, honesty and responsiveness!"

"Ivan did an outstanding job on this project. He was extremely thoughtful about how he coded his solution in WordPress, refactored the code as needed, an effectively communicated the whole time. He is a pleasure to work with."
I'm a seasoned web developer with a proven track record and have worked with WordPress since 2005, when it was just a "cool" blogging system for pimply faced geeks. I have a deep understanding of WordPress and advanced knowledge of the following:
Woocommerce integration & development
Woocommerce Memberships integration & development
Woocommerce Subscriptions integration & development
Woocommerce Bookings integration & development
Woocommerce Stripe integration & development
WordPress custom post type, taxonomy & query development
WordPress custom plugin & theme development
Site optimisation and speed improvements
My approach to web development focuses on quality and accountability, not quick results. Very importantly, I don't make promises I can't keep and I won't screw things up.
I take pride in doing all the work myself and outsource nothing to any third party. That means you'll get better results and your project will actually cost you less in the long run. I'm based in Australia and English is my native language, so please take that into consideration when deciding if you want to work with me.
According to independent tests on Elance, I'm considered to be in the top 5% of WordPress experts and have a top 5% ranking in PHP programming and UX design, as well as a top 10% ranking in MYSQL programming. If you appreciate quality and are willing to pay a fair price for it, we're probably a very good match.
Before we can work together, please understand that I don't offer "budget" pricing or work on tiny, "urgent" projects. I aim for long-term relationships, not a quick buck.
Social media
How to contact us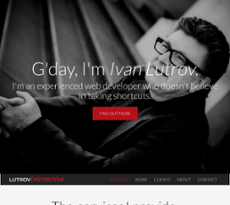 Where to find us
31 Arden Street, North Melbourne VIC 3051