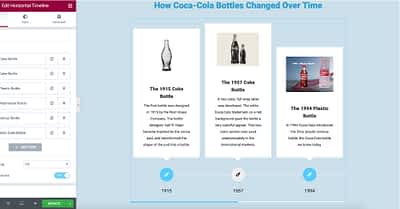 With a need to make a highly-interactive content in Elementor, you go for Stratum Elementor Widgets. With a need for a creative Elementor timeline display, you take advantage of the Stratum Horizontal & Vertical Timeline widgets.
Why Do I Need Elementor Timeline Widgets?
Such an interactive website element as a timeline will help you visualize the sequence of events, as well as showcase achievements, project tasks, or an action plan in chronological order. Using a timeline, you may also provide an overview, show turning points, or identify missing aspects.
Neither Elementor FREE nor Elementor PRO offers a timeline widget or
---
World of WordPress is hosted by:
With Rocket, your websites will be blazing fast, always protected, and supported 24/7 by our experts with over 17 years of experience.
---