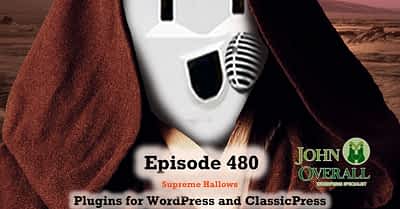 Episode #480 with plugins for Supreme Modules,Woo Hallows, Text Only, Relating Content, Notifications, Dispatching Files, and ClassicPress Options. Email Downloads, Subscribe to Comments @WebberZoneWP @wpkraken @thegeekgoddess… Click To Tweet
Before I get started you will want to hang around to the end of the show for a new segment with Amber…. Also those listening on the podcast may want to check out the YouTube version which has some great discussions before the show starts…
It's Episode 480 with plugins for Supreme Modules,Woo Hallows, Text Only, Relating Content, Notifications, Dispatching Files, and ClassicPress Options. It's all coming up on WordPress Plugins A-Z!
---
World of WordPress is hosted by:
With Rocket, your websites will be blazing fast, always protected, and supported 24/7 by our experts with over 17 years of experience.
---