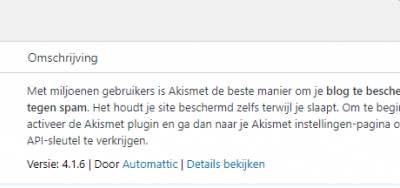 Elke WordPress-installatie wordt geleverd met twee vooraf geïnstalleerde plug-ins. Een daarvan is Akismet. Hoewel Akismet vooraf is geïnstalleerd, is het niet standaard geactiveerd. U moet enkele extra stappen ondernemen om het te activeren. In dit artikel leggen we uit wat Akismet is en waarom je het meteen moet gaan gebruiken. We laten u ook zien hoe u Akismet instelt op uw WordPress-site.
Wat is Akismet?
Akismet is een spamfilterservice voor reacties. De naam Akismet komt van Automattic en Kismet. Auttomatic is het bedrijf achter Akismet en is opgericht door de medeoprichter van WordPress Matt Mullenweg. Akismet vangt blogcommentaar en pingback-spam op met behulp van hun algoritmen. Dit algoritme
---
World of WordPress is hosted by:
While others try to add more components to their hosting to make it go faster, we decided to build our hosting cloud fast from the ground up. We did so by stripping out everything we knew was deadweight.
---