What's new on World of WordPress?
After celebrating one year of World of WordPress and awarding a very nice prize to Gulshan Kumar (with many thanks to Joe Howard of WP Buffs), it is time to expand.
It's very nice to see the number of visitors is still growing. That is why we like to add some new features to World of WordPress.
Membership
Because of the new features, we felt the need to put them all behind a login. To make all options available to only registered members, we have introduced a simple membership. All you have to do is register, and all user options are neatly shown on a dashboard.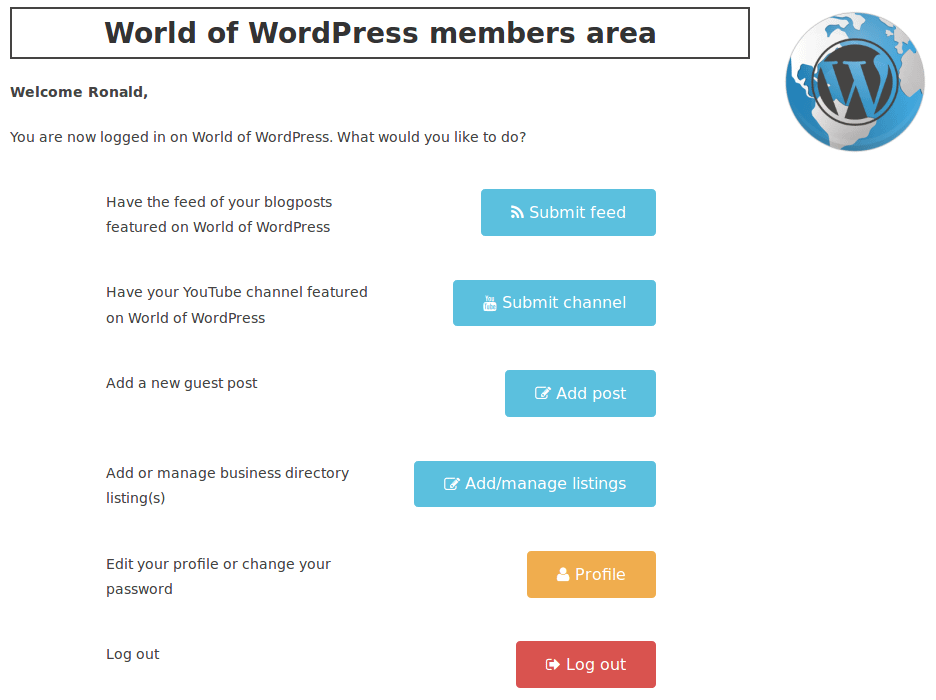 Just choose what you want to do, fill in the forms you want and sit back!
Some options you only have to use once. Like submitting a feed or YouTube channel. We are looking for a possibility to make those options disappear once you have used them. Or simply add a check mark.
The options
Two options were already available before introducing the membership: submitting the feed of your blogposts and submitting your YouTube channel.
Now we have added a few more things. Things that made it necessary to introducing a membership:
Add a guest post. When logged in, you can add a guest post about WordPress or anything related. If you want to share some unique content with the visitors of World of WordPress, you can do that right here!
Add a business directory listing. Do you have a WordPress related business? Add your listing(s) to our recently added directory!
Edit your profile.
Logged in users can now comment on posts.
Example of the business directory: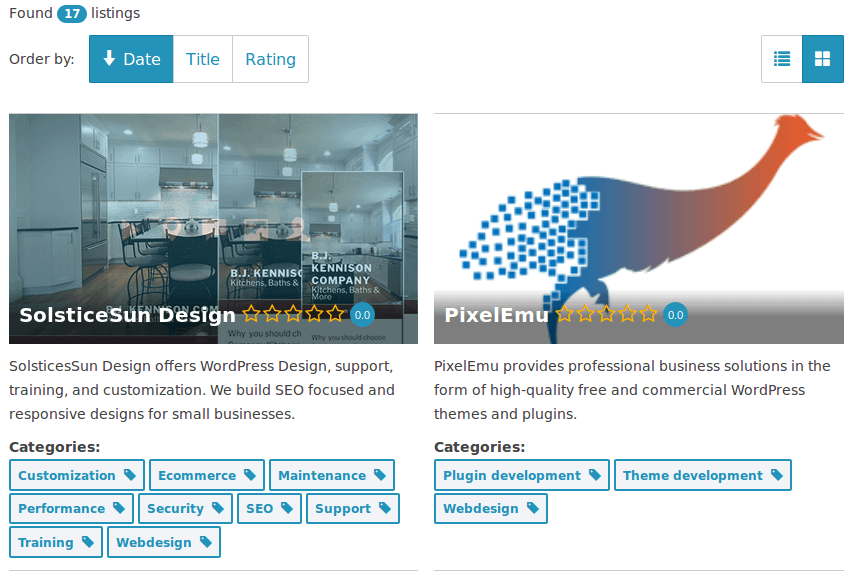 What's up next?
Coming soon: events registration. We are working on a new feature that makes it possible to add your event(s) to World of WordPress.
We will start with a simple event registration. With sufficient interest we will extend the possibilities, like recurring events and booking management.
We are also looking at the possibility to add a job board to World of WordPress.
Any ideas?
Do you have any ideas about the options on World of WordPress? Please leave your reply in the comment area below!
We are also interested in your ideas about (free) plugins for event registration and a job board.
Credits
World of WordPress uses several plugins. Most of them free, some of them paid or free with premium addons. We would like to give credits to the plugin developers who make it possible to add very nice features to World of WordPress :